DemerBox Bluetooth Speakers are built to withstand any abuse. All of the components are intended to withstand water, dust and dirt. The case of the DemerBox can be used as storage and protection for speaker's charging cord and other small items. With a battery life of 40+ hours, you'll be enjoying using your DemerBox for your whole trip without needing to recharge, so you can go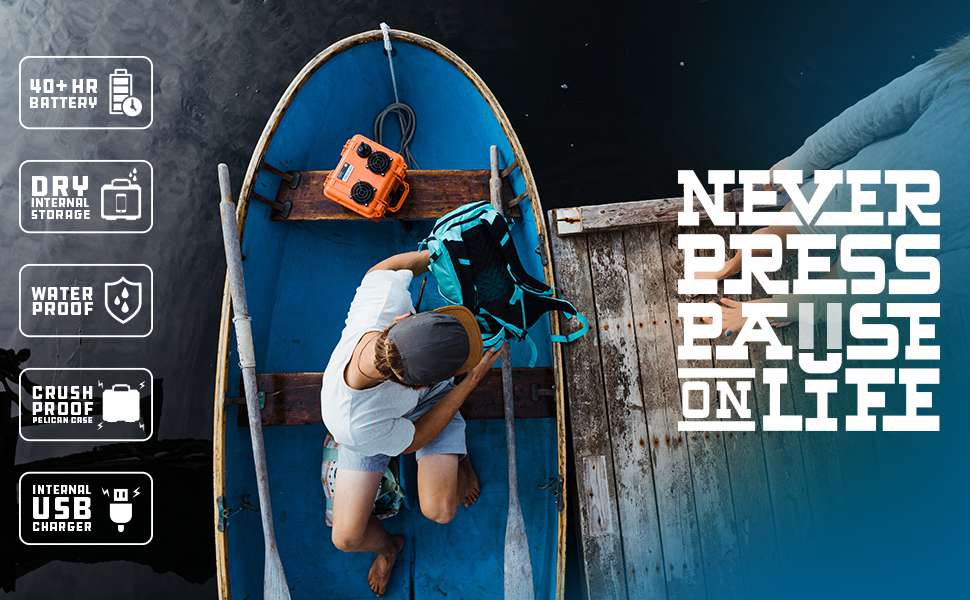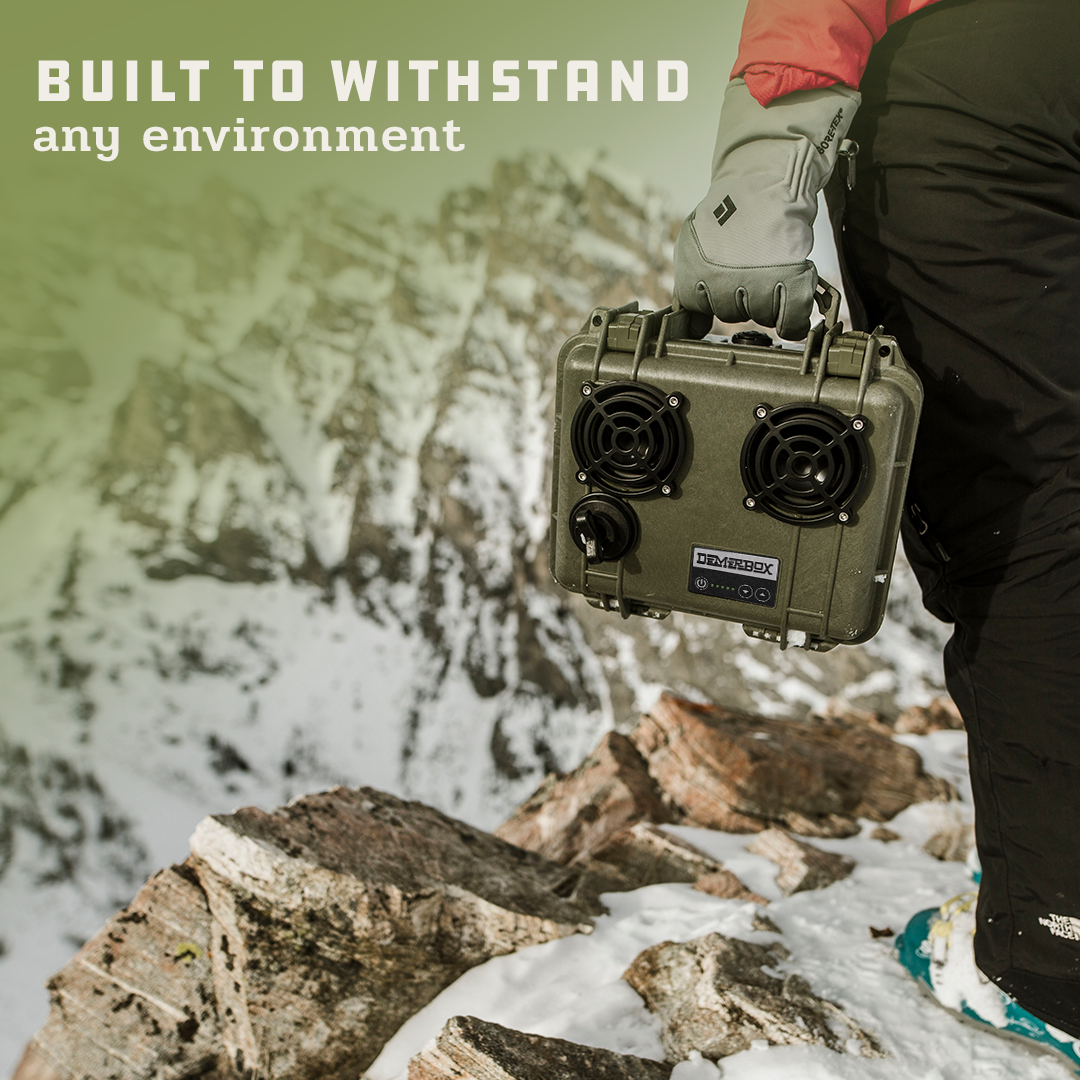 You don't like adding to landfills and neither do we. That's why we built a fully serviceable speaker designed with sustainability in mind. In the unlikely event that there's an issue, DemerBox can fix it.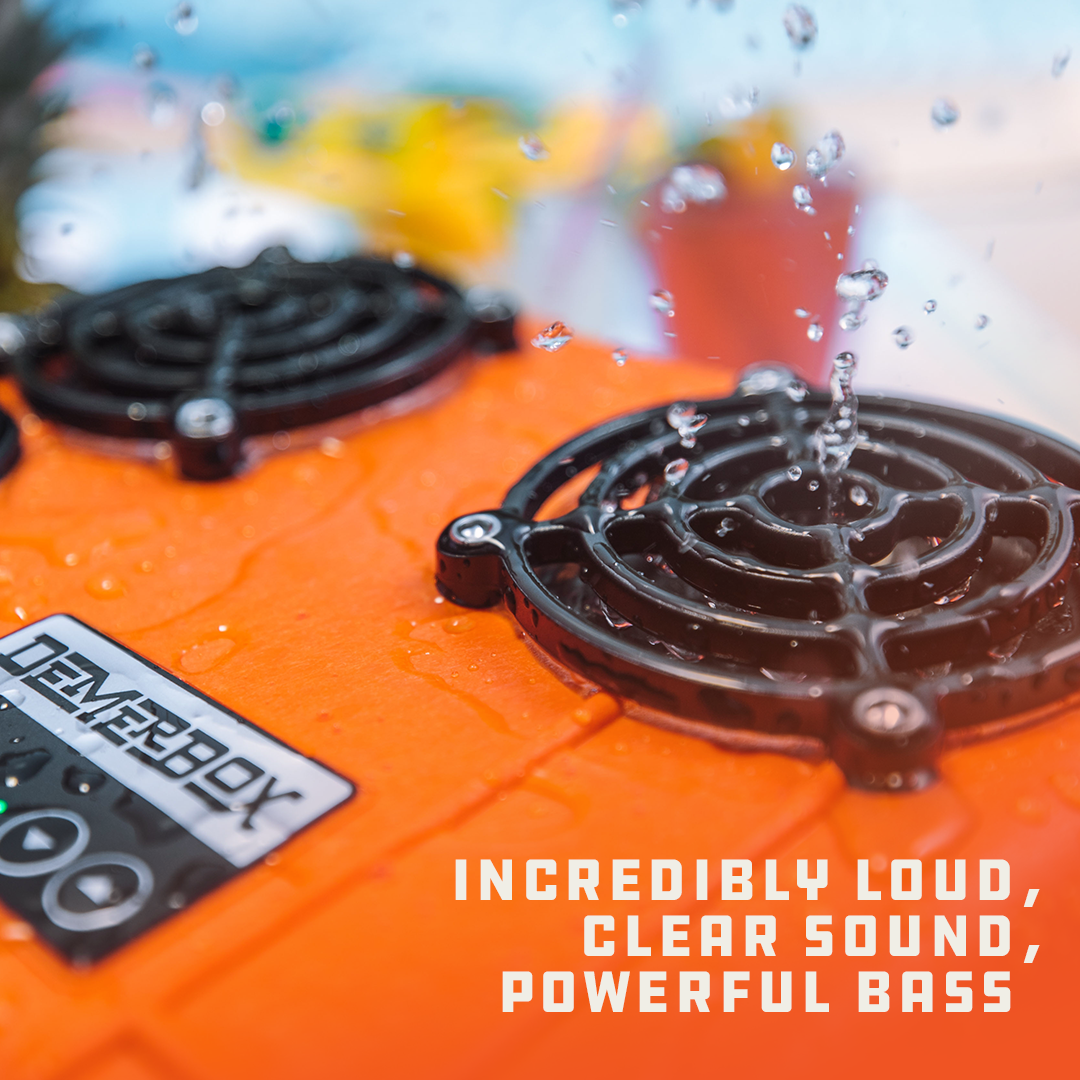 With crisp highs and punchy bass our professional-grade sound excels, providing the soundtrack loud enough for your outdoor adventures.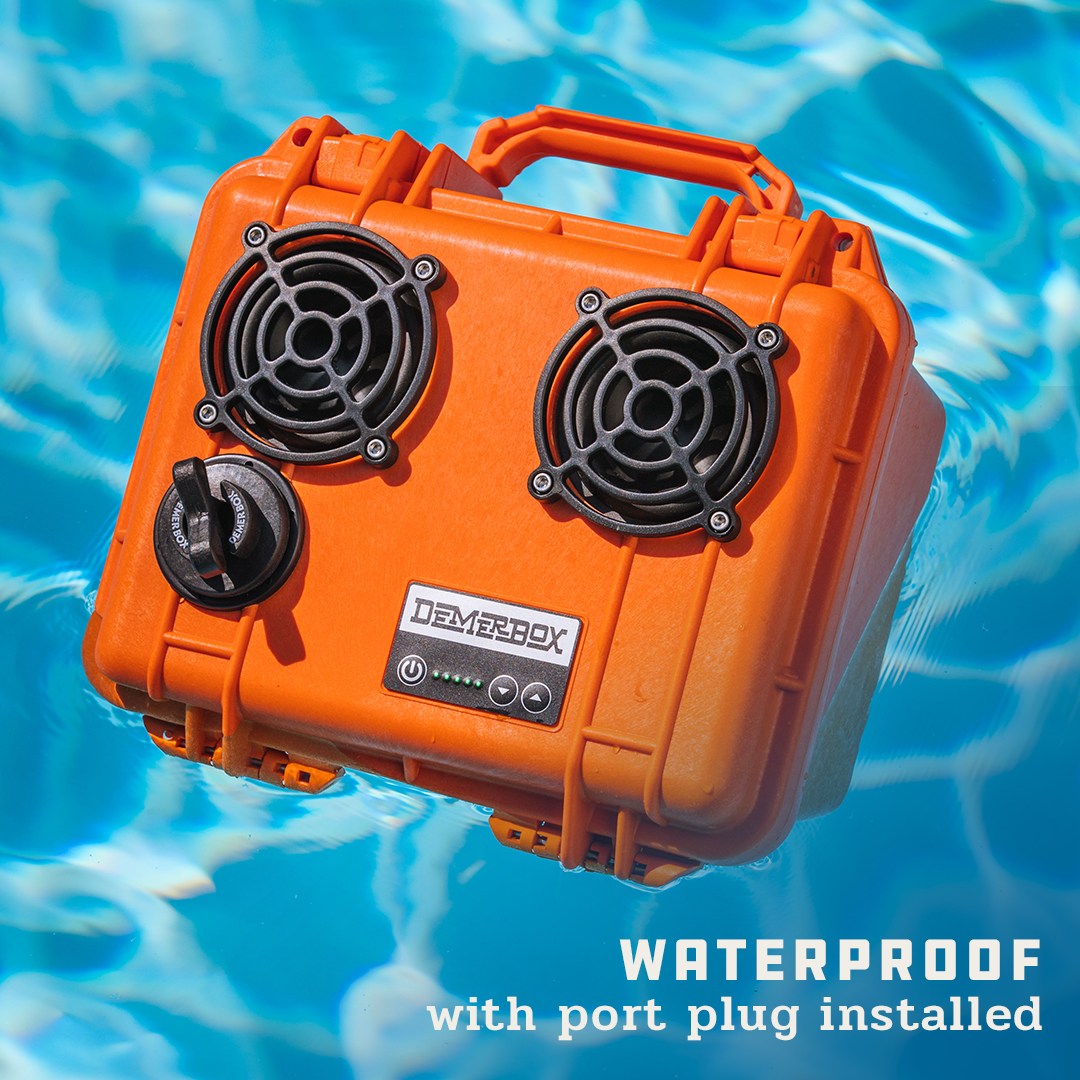 Includes a Port Plug that installs quickly to become fully waterproof. Never worry about rain at your backyard party or the speaker falling overboard again!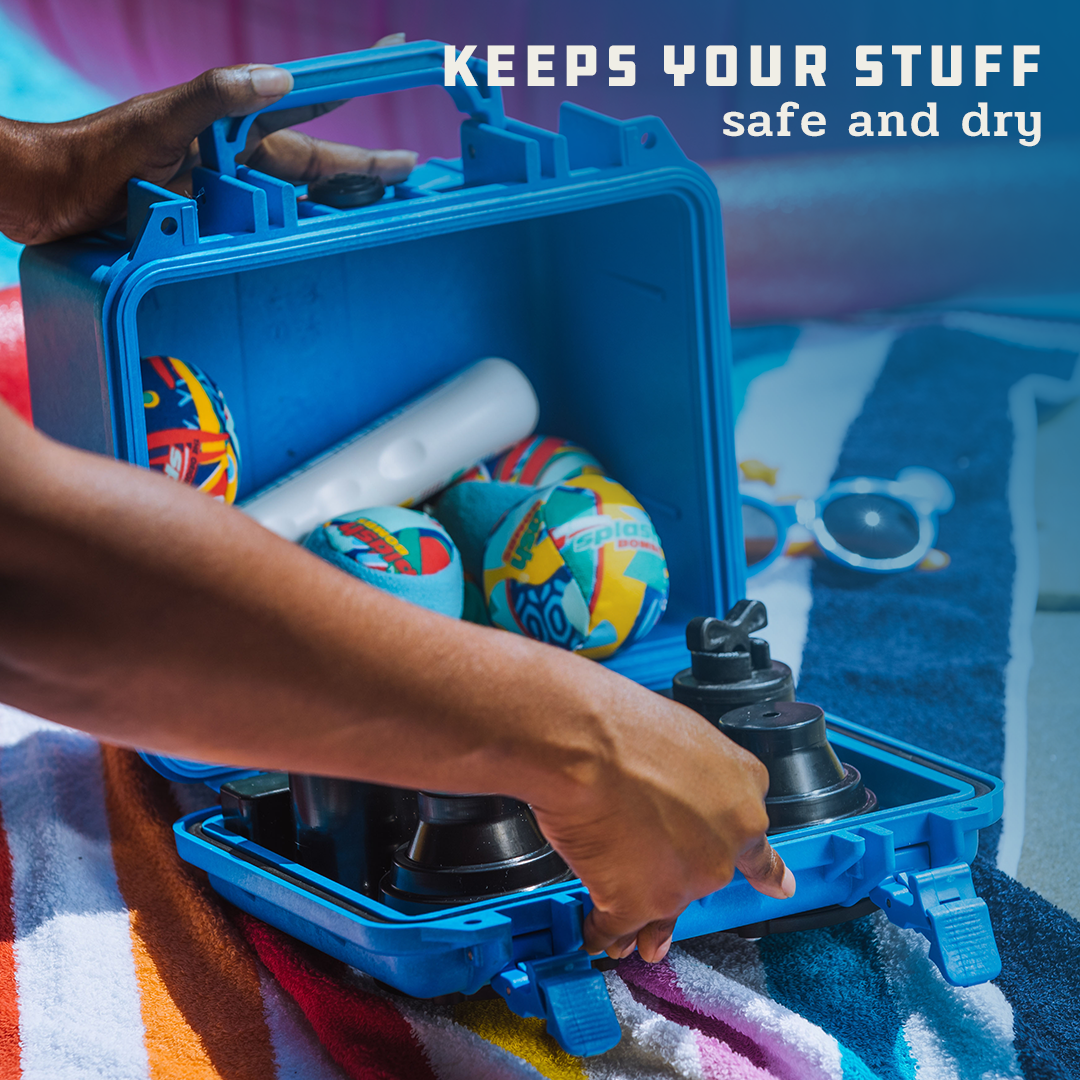 DemerBox is a waterproof case that opens to keep valuable items like your wallet, keys and phone safe and dry inside.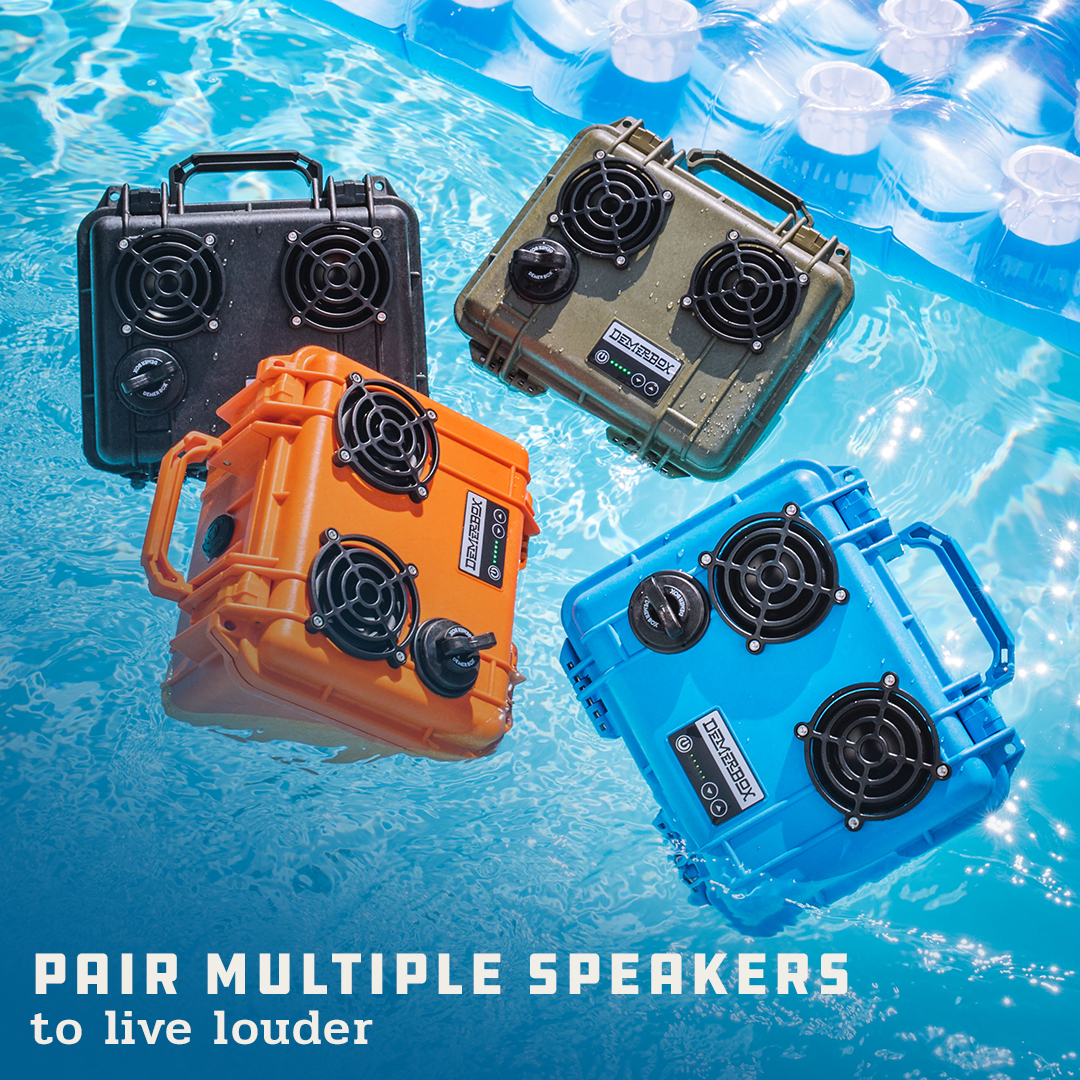 Up to (6) six DemerBox speakers can be paired together / multiple Bluetooth Speaker Pairing will not work with the original DemerBox.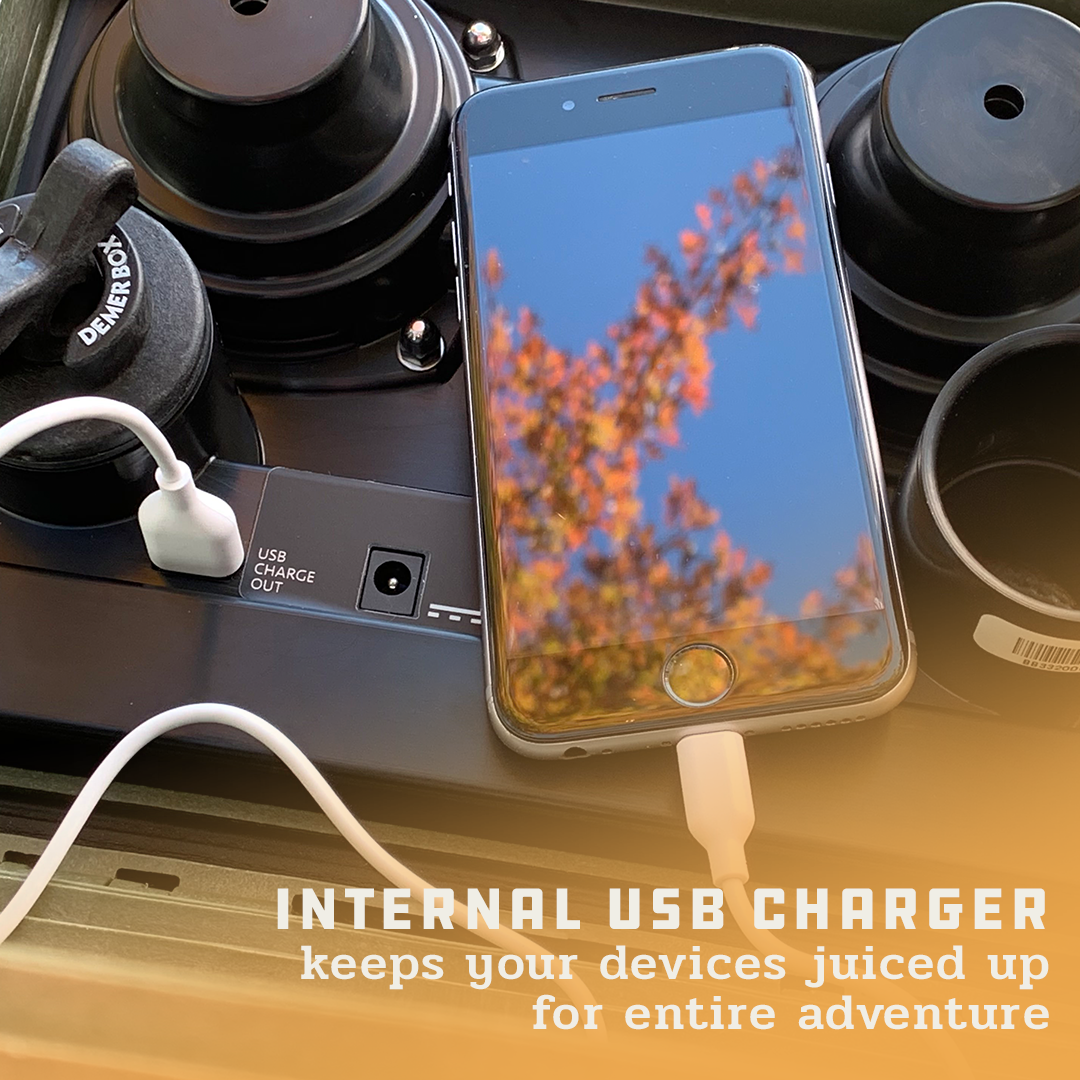 Built in a crushproof Pelican case, DemerBox lasts an incredible 40 hours between charges. Plus, it has internal USB charging to keep your devices juiced up for your entire adventure!
SPECS
MECHANICAL
Size: 10.62" x 9.68" x 6.87" (27 x 25 x 18 cm)
Weight: 5.44 lbs (3.37 kg)
Case: USA made military spec Pelican 1300 case
Hardware Materials:
All metal fastening hardware - 316 stainless steel.
Grills, port cap, and inner plate - USA molded ABS.
Pelican Case - USA molded Polypropylene.

AUDIO
Speaker: Two 3 inch, 8ohm, aluminum cone with rubber surround drivers.
Audio Power: 94db@1ft. 11w per channel RMS. Class D audio circuitry.
Bluetooth: 100 feet (30 meter) range. Real world tested at over 100 feet, line of sight.
Actual performance depends on walls, RF interference and Bluetooth performance of your phone, tablet or laptop.
Audio Input: 3.5mm audio jack in addition to Bluetooth.
POWER
Battery: 2600mAh Lithium Ion @12.6v. 40+ hours play time between charges.
Battery life depends on audio volume, ambient temperature, charging habits and USB charge port usage.
Charge Time: Approximately 4 hours to full when battery is depleted.
Volume: Up/Down switch.
OTHER
Place of Manufacture: Every DemerBox is proudly hand built in the USA.
Most of our parts are made in the USA and the rest are sourced around the planet.
Included with DemerBox: A/C Charger (100-220v input, DC 12.6v@1A output, center positive),
3.5mm stereo cable (1 meter long), Port Plug, Quick Start Guide
Warranty & Repairs
The DemerBox warranty covers defects in materials and workmanship in every DemerBox product for one year from the time of purchase.


Every DemerBox is fully serviceable. If wear and tear takes a toll on your DemerBox outside of the warranty period, DemerBox will repair it for you at a fair price when you ship it back to them. For more information click
here
.