Pelican 45 QT Cooler Price
You've been saving for a while in order to buy a high-end
roto-molded cooler
. The problem is that there are so many out there. Should you go with a brand that everyone has heard of, even if it costs a little more? Or maybe a small brand with a loyal following would be better? And who has the kind of cooler you want? Wasn't there a wheeled cooler you heard about recently that was just about the right size? You look up your past Google searches and there it is "Pelican 45 QT Cooler Price." It's time to take a closer look at this one.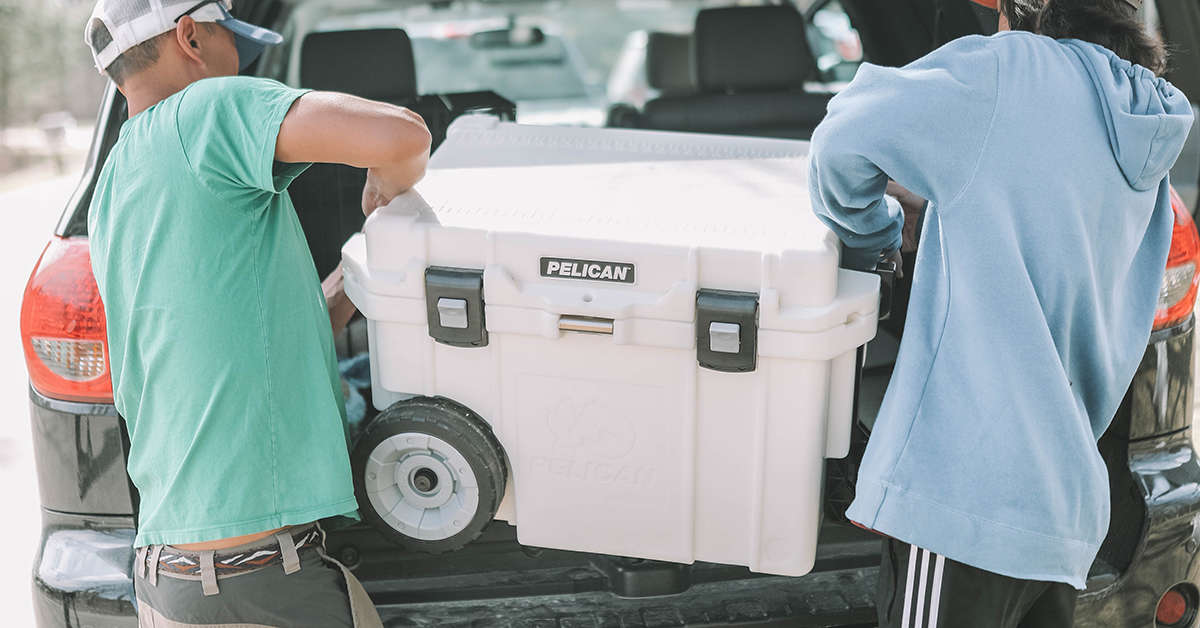 Features of Pelican Elite Wheeled Coolers
The
Pelican 45QT Elite Wheeled Cooler
has been part of Pelican's line of
roto-molded coolers
since 2015. There are a number of features of these coolers that contribute to their hardiness. Two inches of
polyurethane foam
and a
freezer grade gasket
give these coolers up to
seven days of extreme ice retention
. Thanks to 8"
heavy duty wheels
and an extended
pull handle
, the 45QT Wheeled Elite Cooler is a breeze to move around. The
molded handles
and
tie downs
mean that you can secure the cooler just as easily as you can move it. These heavy duty coolers are
certified bear resistant
by the Interagency Grizzly Bear Committee (IGBC Certification #5030), but you'll have no problem getting into them thanks to the easy to use
press & pull latches
.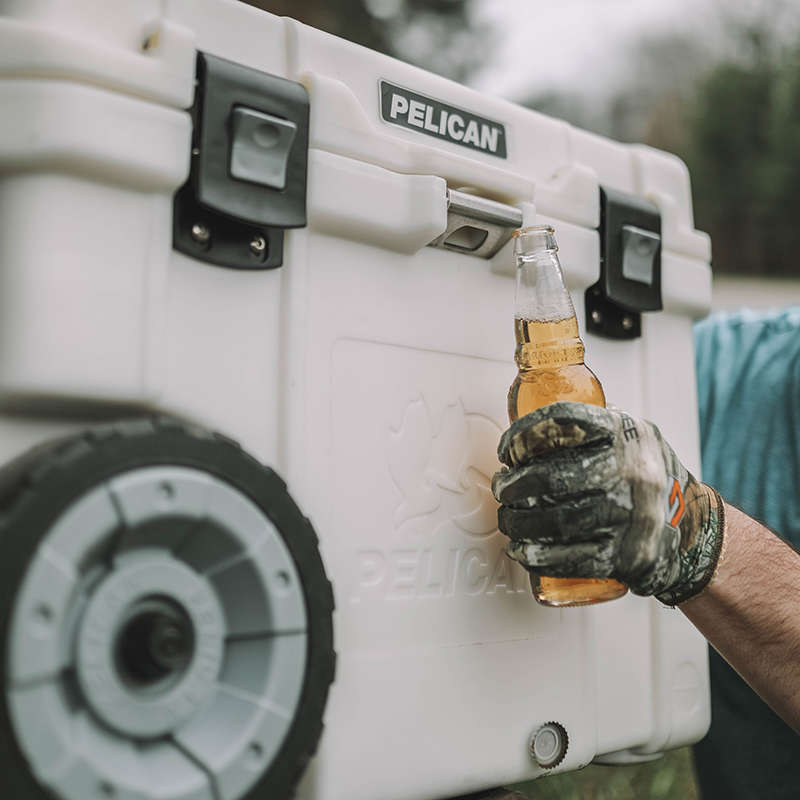 Other Features That Make This Pelican Cooler Adventure Ready Include:
Drain with a tethered cap, which can be hooked up to a standard garden hose
Molded-in lock hasp with built-in stainless steel bottle opener
Lid-integrated fish ruler (in inches and centimeters)
Raised anti-skid feet to keep the cooler in place
Capacity true to size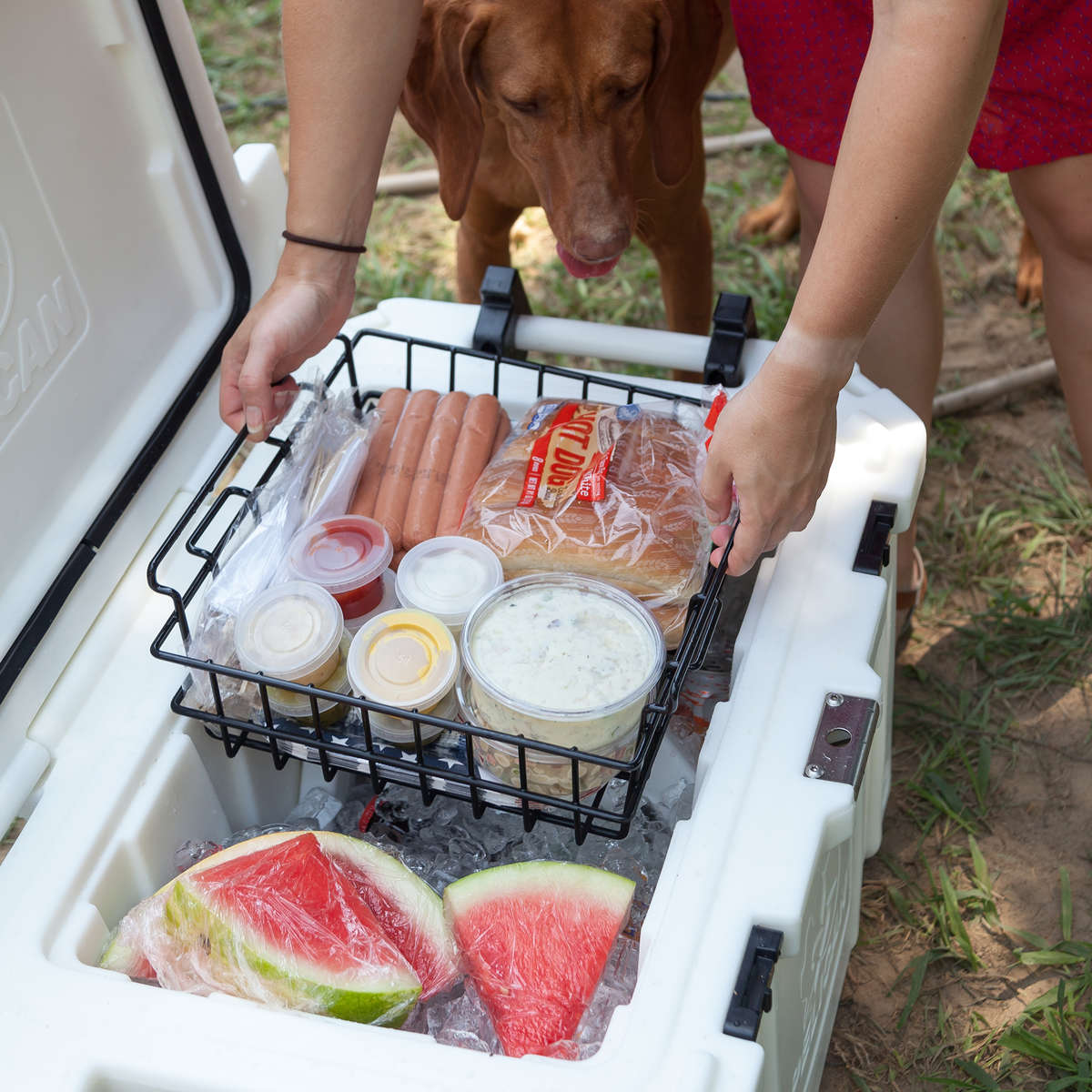 What is the Price of Pelican 45QT Elite Wheeled Cooler?
You may be wondering how much does a cooler with all these features cost?
The short answer is $390.95 + Free US Shipping.
But this cost gets you more than a great roto-molded cooler. The hard-sided 45QT Elite Wheeled Coolers are all designed and
made in America
. Pelican offers a
lifetime warranty
on all their hard-sided Elite Coolers, and they back it up with the promise:
"You break it; we replace it . . . forever."
And with a guarantee like that, you know that it will be money well spent.
It's also good to know that Pelican uses a system called minimum advertised pricing (MAP), which means that any authorized dealer will have the same advertised price for these coolers. If you find a great deal, it could be just that, but it could also be an unauthorized seller. Not to worry though. AdventureReady.com is an authorized dealer, and all orders include free shipping.
Pelican 45QT Elite Wheeled Cooler
You can keep an eye out for
refurbished
Pelican 45QT Elite Wheeled Coolers on AdventureReady.com. These coolers have slight cosmetic blemishes, but these will not affect the performance at all. Keep an eye out for refurbished coolers as a way to save a little money.