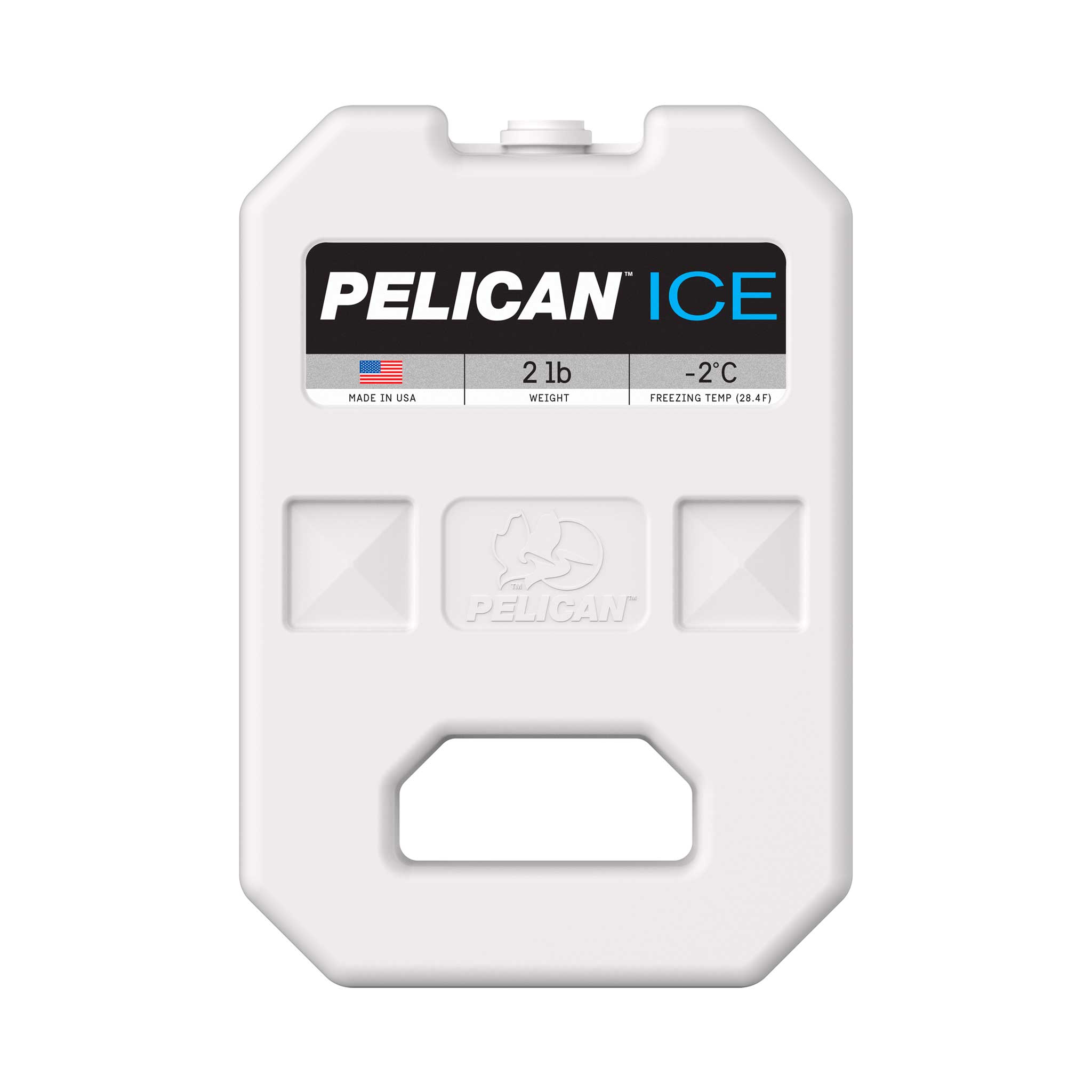 Pelican 2lb Ice Pack
Maximize cooling efficiency with the Pelican™ 2lb Ice Pack. Its flat design ensures faster cooling by maximizing surface area. Freeze Pelican Ice at 28.4°F (2°C) for extended coldness. Traditional ice sticks to its surface due to its incredible coldness. This middle-sized Pelican Ice family member fits the 14QT up to the 250QT hard-sided Pelican Coolers. Keep your food and drinks colder for longer with this optimized cooling solution!
FEATURES
UV-protective shell

Non-toxic, BPA-free, FDA approved materials

Fits in all hard-sided Pelican Coolers 14QT to 250QT.

Lifetime warranty
SPECS
9.10" x 6.30" x 1.40"
FAQs
Will the 2lb ice pack fit inside my Pelican Cooler?
If you have a hard-sided cooler, yes!! The Pelican 2lb Ice pack fits in all hard-sided Pelican Coolers and the select soft coolers:
14QT

20QT

30QT

45QT

50QT

70QT

80QT

95QT

150QT

250QT

24-Can Elite Soft Cooler

48-Can Elite Soft Cooler
The Pelican 2lb Ice is too big and will not fit in the following Coolers:
12-Can Elite Soft Cooler

Dayventure Sling Soft Cooler

Dayventure Backpack Soft Cooler
How long does it take Pelican Ice to freeze?
Pelican Ice takes 6–10 hours to freeze depending on the temperature of your freezer and how cool the pack was before you put it in the freezer.
Will Pelican Ice wear out from repeated use?
Pelican Ice does not wear out or lose performance after repeated use; the active ingredient will continue to give you great performance time after time. Learn more about getting the most out of a Pelican Ice pack.
How much ice vs. Pelican Ice should I use?
Pelican recommends a 50/50 mix of Pelican Ice to normal ice.
Where are Pelican Ice packs made?
Pelican Ice is made in the USA.
How much will Pelican Ice increase the life of regular ice in my cooler?
When used correctly, Pelican Ice should increase the life of regular ice by 50% or more. Learn more about how to pack your cooler to get the best ice retention.
What is the warranty of Pelican Ice?
Pelican Ice is guaranteed for life. Read the full text of the 
lifetime warranty on Pelican Ice packs
for additional details and to learn how to file a warranty claim online.