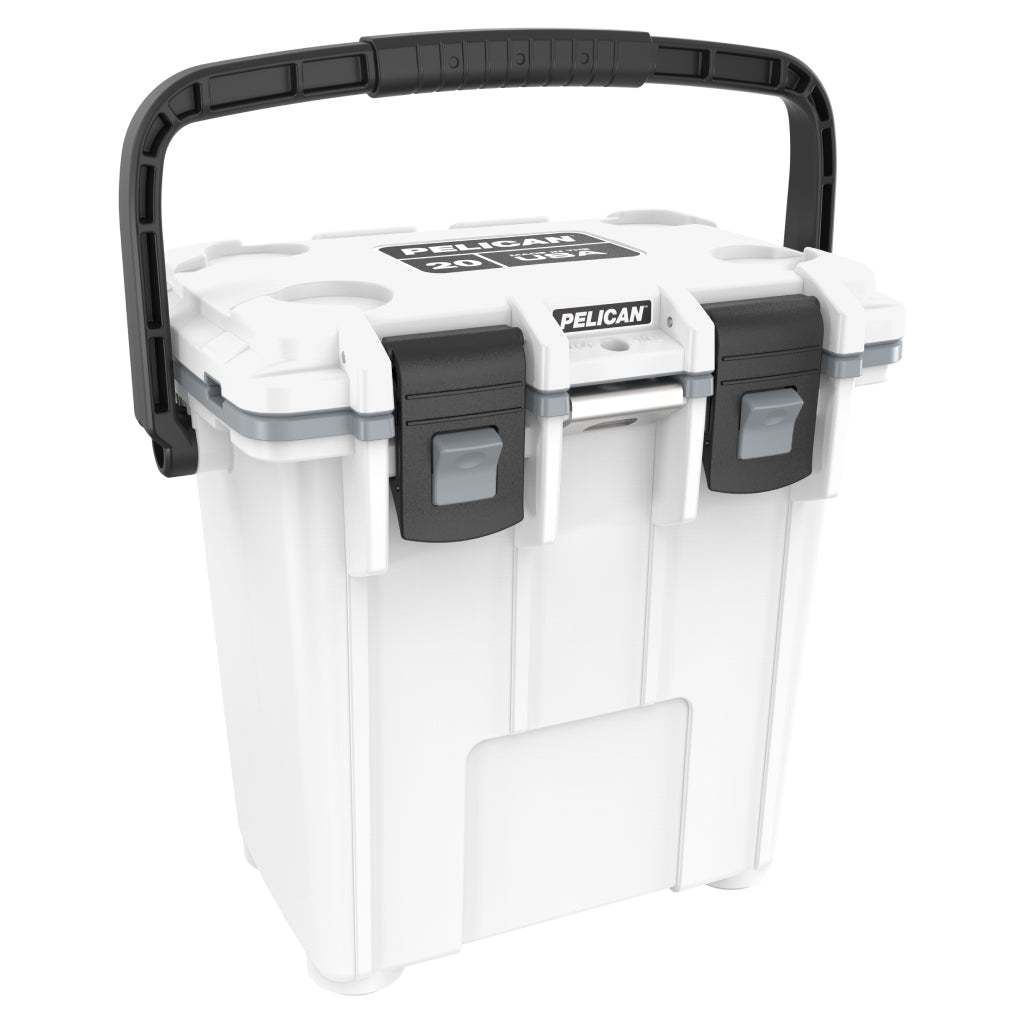 Pelican 20QT Elite Cooler
The Perfect Blend of Style & Space. Your Ultimate Road Trip Companion.
Description
Its innovative tall and slim design allows it to double as a seat, fitting even a wine bottle inside, all while conveniently fitting behind your car's front seat. Boasting a capacity of 15 cans and enough ice for two days, this cooler is a style statement available in a spectrum of colors. Choose the 20QT Elite Cooler that matches your vibe and meets your needs.
Features
2 days of ice retention

Integrated cup holders in the lid

Carry handle with comfortable rubber over-molded grip

Built-in stainless steel bottle opener

Easy press & pull latches

Molded-in tie-downs

Non-skid & non-marking raised rubber feet

True to size 20-quart capacity

Guaranteed for life

 
Specs
Interior: 12" x 6.70" x 14.10"
Exterior: 18.80" x 12.60" x 17.70"
Base: 13.75" x 8.30"
Volume: 20.35 L
Weight: 12.52 lb.
Insulation thickness: 0.78" 
FAQ's
What can this 20QT cooler hold?
20-quart coolers are ideal for day trips or carrying drinks when you travel. This cooler can hold lunch for two + 4 drinks + ice or 15 canned beverages + ice or 4 bottles of wine + ice. Not sure if the 20QT Elite cooler is the right fit for you? Check out how it stacks up in comparison with Pelican coolers for everyday use and with the rest of the core Pelican Elite Coolers.  
How long does this cooler hold ice?
When you follow the 2:1 ratio of ice to goods, a 20QT Elite Cooler has a two-day ice retention rating. That's plenty of time to see you through a day trip or a road trip. You can count on this cooler to keep your drinks frosty cold all weekend long. Learn more about how to get the best ice retention from your Pelican Elite Cooler.
Where is this cooler manufactured?
All of the hard-sided Pelican Elite Coolers are proudly made in the USA. Curious about how hard-sided Pelican Elite Coolers are manufactured? Learn more about Pelican's injection-molded coolers and rotomolded coolers. 
What is this cooler made out of?
Walls: Polypropylene

Insulation: Polyurethane

Handle: Polypropylene

Latches: ABS plastic

Hardware: Stainless steel

Feet: Polypropylene
What is covered in the lifetime warranty?
Pelican backs up their hard-sided Elite Coolers with a lifetime warranty. This warranty guarantees against breakage or defects in workmanship for the life of the cooler. Read the full text of the lifetime warranty on Pelican hard-sided Elite Coolers for additional details and to learn how to file a warranty claim online.
Which replacement parts fit this cooler?
You can find select replacement parts that will fit this cooler on EliteCooler.com. These parts are listed below:
You can also get these replacement parts, as well as parts not listed here, by filing a warranty claim with Pelican.