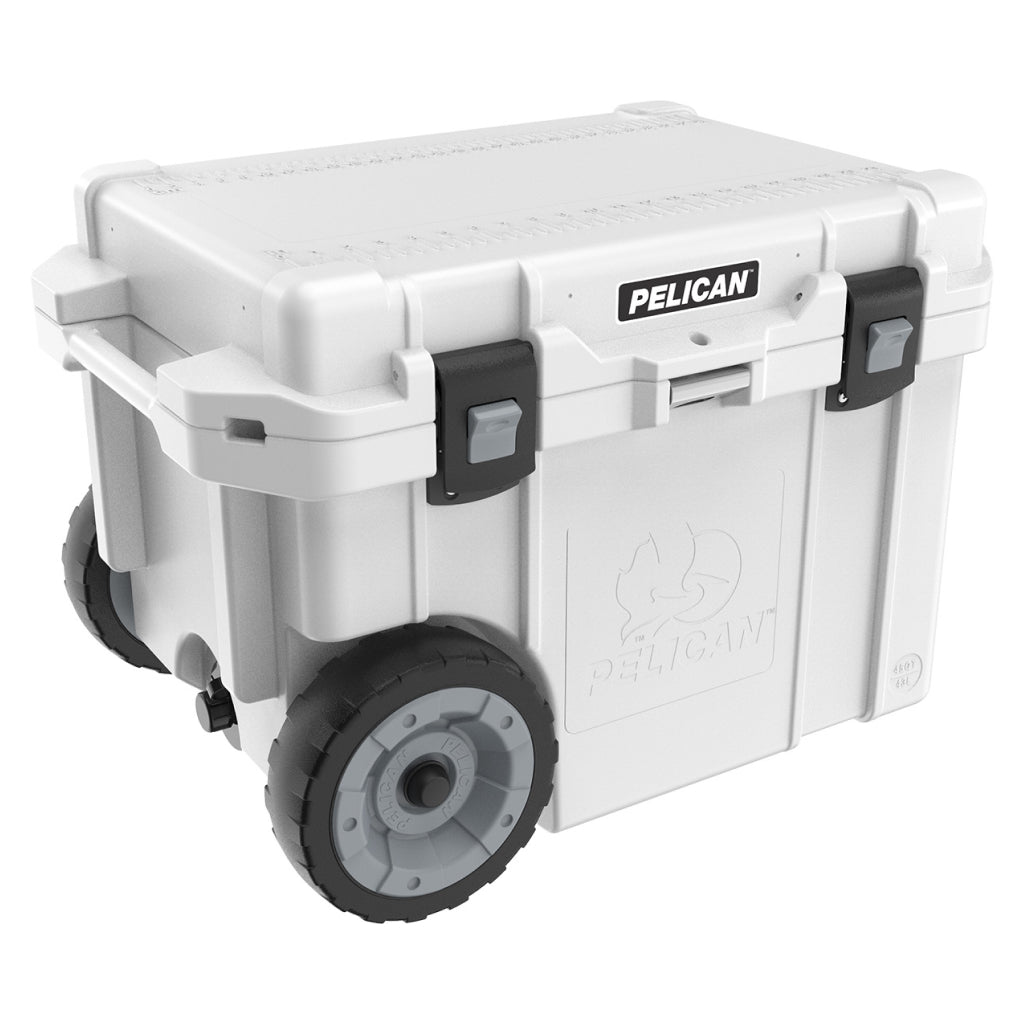 Pelican 45QT Elite Wheeled Cooler
 Rugged wheels conquer any terrain, even when fully loaded.
Description
Gear up for weekend adventures with the Pelican 45QT Elite Wheeled Cooler. Enjoy a true 45QT capacity, fitting 34 cans and ice for 7-day retention. With a freezer-grade gasket and 2 inches of polyurethane insulation, your drinks stay refreshingly cold. The heavy-duty retractable handle ensures easy transport, backed by Pelican's lifetime warranty. Your ultimate weekend expedition companion!
Features
7 days ice retention

34 can capacity (at 2:1 ice ratio)

Heavy-duty large-diameter wheels

Press-and-pull latches

Sturdy trolley handle

Rubber non-skid feet

Built-in, sloped drain with tethered drain cap

Fish ruler on lid

Stainless steel hardware

Built-in bottle opener

Certified bear-proof by the IGBC

Guaranteed for life
Specs
Interior: 19.00" x 12.00" x 12.00"
Exterior: 29.66" x 20.00" x 19.25"
Base: 25.00" x 18.00" inside of wheels
Volume: 42.59 L
Weight: 37.25 lbs
Insulation thickness: 2.00"
FAQs
What can the Pelican 45QT Elite Wheeled Cooler hold?
The 45QT Elite Wheeled Cooler can hold 34 cans with ice, or food and drinks for a 3-day camping trip. Not sure if the 45QT Wheeled is the right fit for you? Check out how it stacks up with the rest of the core Pelican Elite Coolers.
How long can the Pelican 45QT Elite Wheeled Cooler hold ice?
When you follow the 2:1 ratio of ice to goods, a 45QT Wheeled Elite Cooler has up to a 7-day ice retention rating. Learn more about how to get the best ice retention from your Pelican Elite Cooler.
Where is the Pelican 45QT Elite Wheeled Cooler manufactured?
The 45QT Wheeled Cooler is proudly made in the USA. Curious about how hard-sided Pelican Elite Coolers are manufactured? Learn more about Pelican's injection-molded coolers and rotomolded coolers. 
What is the Pelican 45QT Elite Wheeled Cooler made out of?
Outer walls: Polypropylene

Insulation: Polyurethane foam

Latches: ABS plastic

Handle material: TPE

Hardware: Stainless steel

Drain Assembly: Polypropylene

Feet: Polypropylene
What is covered in the lifetime warranty?
Pelican backs up their hard-sided Elite Coolers with a lifetime warranty. This warranty guarantees against breakage or defects in workmanship for the life of the cooler.  Read the full text of the lifetime warranty on Pelican hard-sided Elite Coolers for additional details and to learn how to file a warranty claim online.

Which replacement parts fit the Pelican 45QT Elite Wheeled Cooler?
You can find select replacement parts that will fit this cooler on EliteCooler.com. These parts are listed below:
You can also get these replacement parts, as well as parts not listed here, by filing a warranty claim with Pelican.