Summer Buying Guide: Best Cooler for Daily Use
Summer is just around the corner, and that means it's time for outdoor adventures. Whether you're going for a fun day hike, a weekend at the beach, or even a long day on the job we've got you covered with the perfect Pelican cooler for all your needs. Not sure which is the best cooler for daily use for you? Consult our handy flowchart to find your ideal cooler.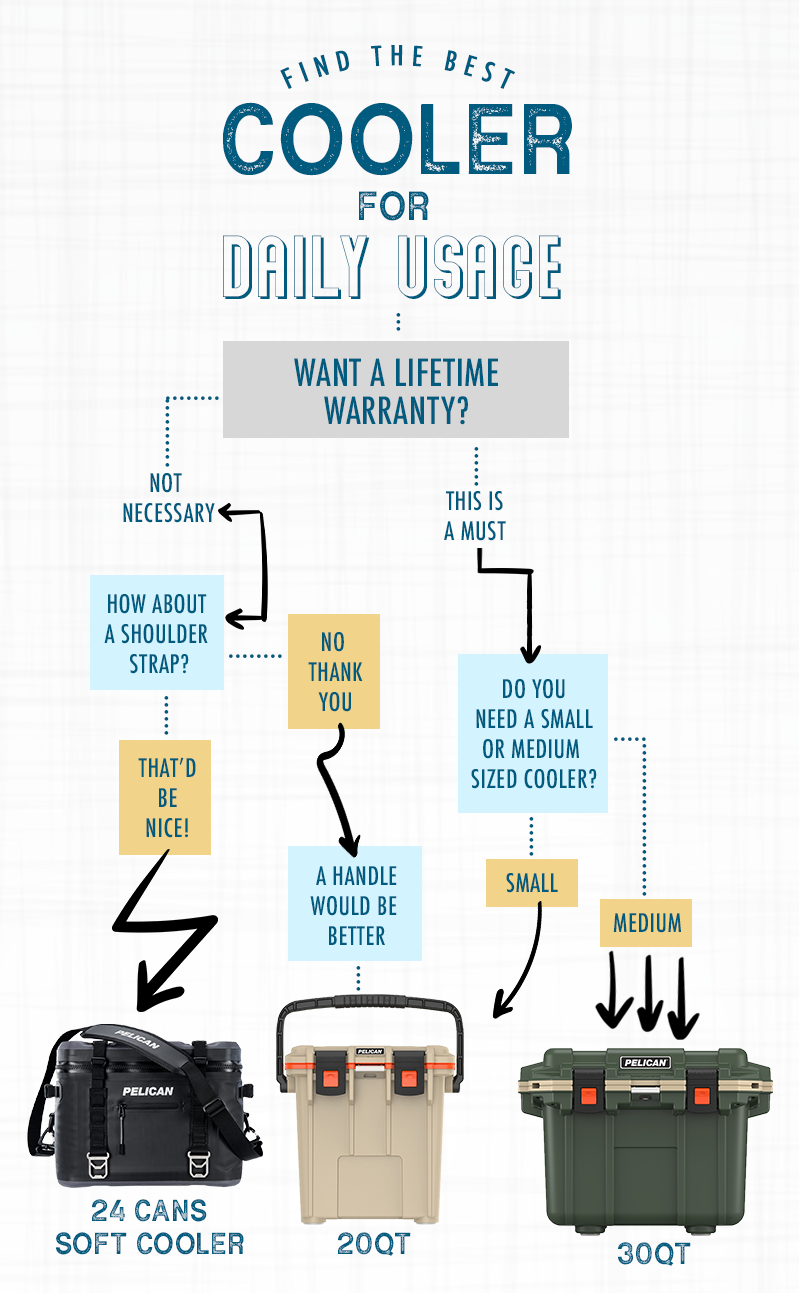 Pelican 20QT Elite Cooler
The
20QT hard-sided cooler
is the perfect cooler for a day trip with a friend. In this cooler you'll have room for two meals, six drinks, and snacks. Alternatively, pack up this cooler with four bottles of wine for a night to remember. With
Pelican's lifetime guarantee
and the ability to hold ice for two days, this cooler will be the perfect choice for a variety of adventures.
Pelican 30QT Elite Cooler
If you're going to a party in the evening, the
30QT
could be the best cooler for you! It's big enough to hold 22 cans of beer with a 2:1 ice to beer ratio to ensure your beer will be deliciously cold; looks like you'll have to pre-game the other two cans in the case. Of course, with it's 6-day ice retention and room for enough food and drinks for two people over two days, the 30QT will be perfect to bring on a romantic weekend getaway.
Pelican 24-Can Elite Soft Cooler
For a long hike, this
24-can soft cooler
is a great option, thanks to the fact that it's less than half as heavy as similarly sized
hard-sided coolers
. This cooler's convenient shoulder strap makes carrying it on the hike a breeze. And thanks to the fact that this cooler will hold ice for two days, with the added insurance of a leak-proof zipper, you don't have to worry about melting ice leaking on you during the hike back to the car.
Still can't decide which cooler is the best one for daily use for you? Send us an email at
sayhello@adventureready.com
to get even more information. Or better yet, just buy all three!
You May Also Need with Your Pelican Cooler